GIVE TO CROSS & CROWN CHURCH
You can start by simply clicking "Give" below:
1. Set up how much you want to give…
2. How often you'd like to give it…
3. Click "donate!" and you're done!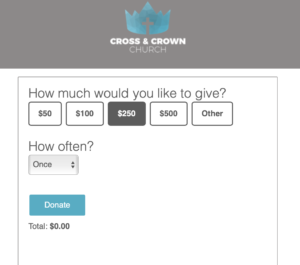 Thank you for partnering with us in the gospel of the Kingdom!
Your generous donations are helping fund Pastor Jason and his family as he serves as a missionary and church planter here in Northern Virginia. Because we are a small house church, we are unable to fund him full-time, and thus we rely on donors like yourself to make sure the mission and vision continues to be carried forward. So once again, thank you for helping us see the gospel of the Kingdom advance here in NoVa!